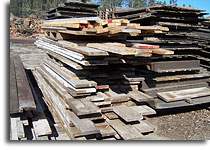 Building a shed, deck or planter box? Our wood scrap recycling program receives a steady supply of high quality redwood and fir lumber, posts, beams and plywood that's ideal for such projects. We occasionally get hard to find hardwood stock as well for those special interior projects. Some of these excellent quality wood products come from new construction sites and have never been used.
Advantages of Recycled Wood
It keeps valuable wood out of our landfills and reduces the demand to cut trees in our forests. Less trees being trucked from distant forests to be milled, and then trucked again to a retailer, means less traffic on our highways. The result: a reduction in fossil fuel use, improved air quality and less global warming.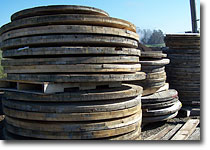 Affordable Pricing
In most cases you'll save from 1/2 to 2/3 off of retail lumber prices. See the list below for pricing on many of the products we often stock. If you visit our yard and find something not on our list, ask for pricing in our office.
Sorting/Stacking/Loading
Customers are welcome to sort through our stacked wood. (Please check in at our office first) To keep our recycled wood area neat for the next customer, we ask that you re-stack the wood when finished. Please don't load your vehicle until the lumber you want has been tallied up by one of our staff. If you require assistance, we will be happy to help you load your order.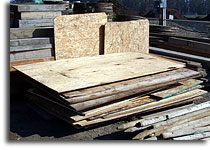 Customer Caution Advised
All recycled wood products should be used and handled with care as they may contain nails, screws. brads, staples, connectors, rocks and other items that are not visible. If these materials come in contact with saws or other woodworking equipment, damage to the equipment and personal injury could result. The use of safety equipment, including eye protection and gloves is advised.
Recycled Wood Pricing

Wood
Product
Size (nominal)
Price/foot
Fir/Redwd.
Lumber
2 X 4
.20/foot
Fir/Redwd.
Lumber
2 X 6
.28/foot
Fir/Redwd.
Lumber
2 X 8
.36/foot
Fir/Redwd.
Lumber
2 X 10
.44/foot
Fir/Redwd.
Lumber
2 X 12
.55/foot
Fir/Redwd.
Lumber
3 X 4
.28/foot
Fir/Redwd.
Lumber
4 X 4
.55/foot
Fir/Redwd.
Lumber
4 X 6
1.01/foot
Fir/Redwd.
Lumber
4 X 8
1.35/foot
Fir/Redwd.
Lumber
4 X 10
1.69/foot
Fir/Redwd.
Lumber
4 X 12
2.02/foot
Redwood
Fencing
1 X 6
.25¢/foot
Redwood
Fencing
1 X 8
.33¢/foot
Redwood
Fence Panels
To 10' long/any ht.
$10/panel
Plywood

Thickness
Price/Sq.Ft.
Full Sheet Price
1/4"
13¢
4.00/sheet
3/8"
16¢
5.00/sheet
1/2"
19¢
6.00/sheet
5/8"
25¢
8.00/sheet
3/4"
28¢
9.00/sheet
1"
38¢
12.00/sheet
Full sheet is 4' x 8' (32 sq. ft.). Prices apply to standard exterior construction plywood, paneling & OSB. Interior & cabinet grade stock priced as marked.
Miscellaneous Wood Products

Fence Panels
All Species
$2.00/foot
Grape Stakes
All Sizes
$2.00/each
Tree Stakes
All Sizes
$2.00/each
Split Rails
All Sizes
$2.00/each
Pallets
All Sizes
$2.00/each
PG&E Reel Ends
$1.00/foot (Diam)
Uniques Specialty Items
Priced as marked